30 years of the Polish anti-doping system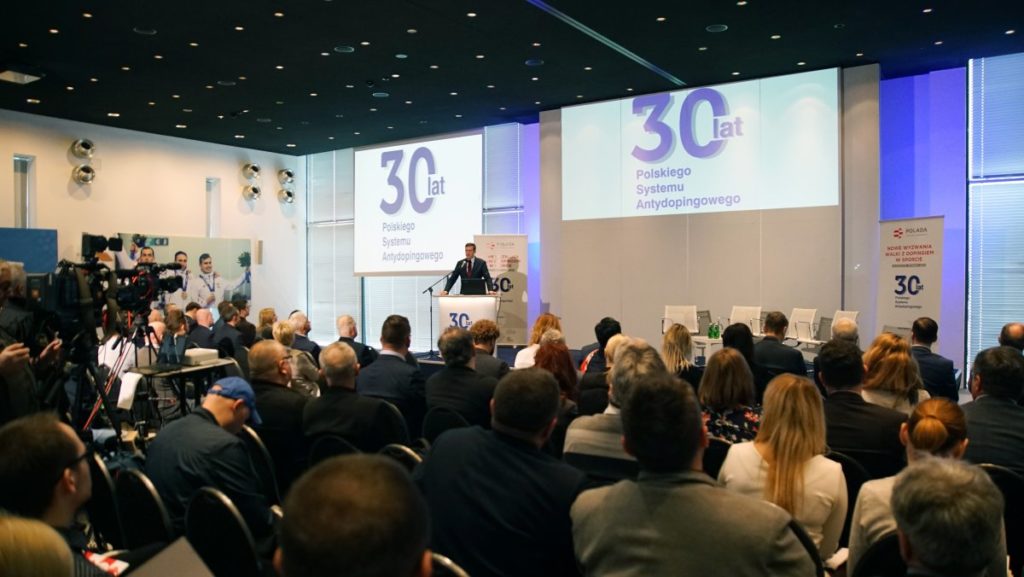 A conference commemorating the 30th anniversary of the Polish anti-doping system "NEW CHALLENGES IN THE Fight AGAINST DOPING IN SPORT" was held on 28 March 2019 at the Olympic Centre, Polish Olympic Committee in Warsaw.
The event was attended by nearly 200 representatives of sports associations and federations, police, border guards, military police, prosecutor's office and representatives of the medical community associated with sports medicine. During the conference, topics related to historical, ethical, medical, legal and public aspects of the Polish anti-doping system were discussed. The aim of the conference was to present contemporary trends in law, medicine and laboratory analysis, state policy and investigative activities aimed at detecting doping related crimes and violations of disciplinary rules, as well as to strengthen cooperation between institutions involved in the fight against doping in sport.
The conference was opened by Minister Witold Bańka, who stated that "the fact that we are in the place where we are is due to many experts who over the past years have developed this system, worked on these solutions, people who have fought with passion for clean sport". The Minister also stressed that "The doping industry is an industry full of innovation. If we do not follow them dynamically, we will lose. In the fight against doping, we must not give up".
A discussion panel led by Paweł Wilkowicz attended by Polish Olympians: Maja Włoszczowska (MTB), Luiza Złotkowska (speed skating) and Tomasz Majewski (athletics) was an important element of the conference.
"The fight against doping is essential, because otherwise we will lose at the start. Someone will always cheat, just as crimes are still being committed despite the punishments, but it is a mistake to think that all athletes are dishonest, just as not all of them are thieves and rapists" – said Maja Włoszczowska, twice Olympic MTB champion.
"There are people for whom money is most important and this will not change. The IAAF (International Association of Athletics Federations – PAP) was "eaten" by corruption, but now it is a model for the fight for clean sport. It is important to build one front so that all federations fight in the same way, because the example of the doping scandal in Russia shows that this is not the case today" – said Tomasz Majewski, the Olympic shotput champion, who currently serves as vice-president of the Polish Athletics Association.
In recent years, activities in the field of fight against doping in sport have gained new dynamics, a law on fighting doping in sport has been adopted, a Polish Anti-Doping Agency has been established, a laboratory accredited by WADA has been institutionally separated from the Institute of Sport, and the city of Katowice has been selected as the host of the World Anti-Doping Conference to be held on 5-7 November this year.
The agenda of the meeting included four sessions:
Session I – HISTORICAL AND ETHICAL ASPECTS
Moderator: Hubert Krysztofiak, COMS
9:00 Conference aims and agenda – Michał Rynkowski, POLADA Director
9:05 New challenges in the fight against doping in sport – Witold Banka, Minister of Sport and Tourism
9:20 Doping and public health – Dr. Przemysław Rzodkiewicz, Chief Sanitary Inspectorate
9.40 "From Bukowski to the World Conference on Doping in Sport – the history of the fight against doping in Poland" – Dr. Andrzej Pokrywka, University of Zielona Góra
10.00 Does the fight against doping in sport make sense? Panel led by Paweł Wilkowicz (Sport.pl) with: Tomasz Majewski, Maja Włoszczowska and Luiza Złotkowska
Session II – MEDICAL AND ANALYTICAL ASPECTS
Moderator: Andrzej Pokrywka, University of Zielona Góra
11:00 Medical aspects of the fight against doping in sport – Dr Jarosław Krzywański, COMS
11:20 Therapeutic use exemptions – do they fully protect against possible abuse? – Katarzyna Szmigielska, Uniwersytet of Medical Sciences in Łódź
11:40 Analytical challenges in the fight against doping in sport – Dr Detlef Thieme, IDAS Kreischa (Germany)
12.10 Biological Passport Program – Dr Dorota Kwiatkowska, Polish Anti-Doping Laboratory
Session III – LEGAL ASPECTS
Moderator: Aleksandra Łysuniak-Strauch, Chair, 2nd Instance Disciplinary Panel, POLADA
13.10 Criminalization of doping – Prof. Andrzej Jan Szwarc, School of Banking in Poznań
13.30 Disciplinary liability for violation of anti-doping rules – Michał Rynkowski, POLADA
13.50 The significance of Poland in international anti-doping policy – Rafał Piechota, Ministry of Sport and Tourism
14.10 Evaluation of the arbitration judiciary – Ludwik Żukowski, Court of Arbitration for Sport, Polish Olympic Committee
Session IV – PUBLIC ASPECTS
Moderator: Prof. Andrzej Małecki, POLADA
14:50 Pharmaceutical crime and doping – Prof. Zbigniew Fijałek, Medical University of Warsaw
15:10 POLADA's investigative activity and cooperation with law enforcement agencies – Agnieszka Ostrowska, POLADA
15:30 Direction of anti-doping education – Grzegorz Borkowski, POLADA
15:50 Summary and conclusion of the conference